5 takeaways from Stockholm World Water Week | Devex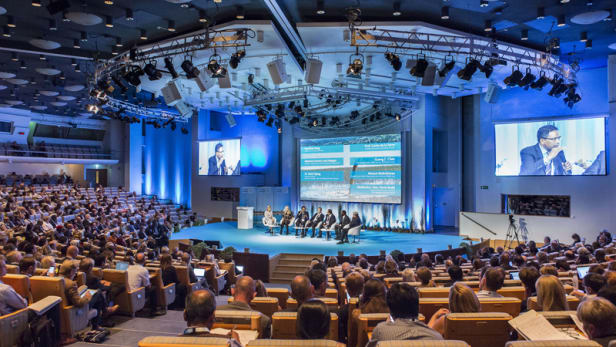 Experts have pointed to a growing momentum among politicians, finance and business leaders toward meeting the global water and sanitation development goals. However, many also warn that development finance is still woefully small, that silos persist among actors, and that not enough attention is being paid to reaching the poorest of the poor.
These were some of the main messages heard during last week's Stockholm World Water Week, which saw more than 3,200 participants from 133 countries descend on the Swedish capital for six days of sessions and discussion centered around reaching the water and sanitation Sustainable Development Goals.
Topics debated at the conference, which is organized by the Stockholm International Water Institute (SIWI), went far beyond providing access to safe drinking water and toilets, covering everything from managing and recycling waste water as well as human waste, to the role of green infrastructure in the water cycle, to international water law.
How to access new sources of finance and how to spend existing flows more effectively was a prominent theme. The World Bank now estimates an additional $114 billion per year is needed in order to extend universal access to WASH beyond what was required for the Millennium Development Goals. But in 2014, development finance for water totaled just $18 billion per year.
Many attendees spoke of the rising political profile of WASH. Kevin Rudd, former prime minister for Australia and now chair of Sanitation and Water for All — a global partnership that works to get high-level political buy-in for the WASH agenda — went as far as to call water "the new climate change" during his remarks at the conference's opening plenary.
See related stories:
▶ 5 topics to watch at Stockholm World Water Week
▶ Opinion: How to integrate water, sanitation and hygiene into nutritional policies
▶ Key insights for organizations providing WASH services in conflict
▶ Q&A: CEO of Water.org on bringing water to 5 million people through social impact investing
▶ From fashion to designing for development: Q&A with Sophia Sunwoo
At the country level, ministers including Kofi Adda, the head of Ghana's newly created ministry of water and sanitation, outlined ambitious new WASH strategies, and ministers from Iraq and Nigeria also expressed their commitment to tackling WASH issues in their respective countries.
However, others at the conference said they were not convinced by rhetoric and warned that meeting WASH specific SDG targets by 2030 would be a huge challenge. Currently the U.N estimates that 2.1 billion people still lack access to safe drinking water, and 4.5 billion are without improved sanitation services. Furthermore, with population growth projections at their highest in water scarce areas such as sub-Saharan Africa, and increasing rates of urbanization, the challenge is set to get even harder in the coming years.
Here are five key takeaways and issues to watch.
1. The SDGs have 'galvanized' the WASH sector
Experts agree that the SDGs have drastically upped the ante when it comes to WASH. Where the Millennium Development Goals set fairly binary targets around universal access to clean water and sanitation, SDG 6 calls for universal access to services that are equitable, quality, affordable, reliable and used efficiently.
Furthermore, experts stress that water and sanitation underpin the majority of the other SDGs — such as health, nutrition, energy and education targets — adding an extra level of complexity and urgency to meeting the WASH agenda.
SIWI Executive Director Torgny Holmgren said that the diversity among this year's attendees and conveners — and the fact that the conference has been growing in recent years — indicated that the scale of the water crisis is finally being acknowledged.
"The water issue is becoming more alarming around the world … it's a growing market," he said. He noted a much stronger presence from the business and financial community, including commercial banks and insurance companies, who he said would not have attended a few years ago.
Patrick Moriarty, head of IRC Wash, said the sector had been "galvanized" by the new SDG agenda, and that he is pleased to see new approaches and research being developed and also to see the World Bank "re-engaging" in the sector.
"At end of MDGs, the sector felt a bit stuck … but in the last couple of years, we've seen new stuff coming onto the table which wasn't [there] before," he said, adding that it's "being driven by the SDGs."
He also said the sector is moving toward a more system-based approach. "There's more openness to look at the problems in a more joined-up way," he said. "A whole language around system strengthening is getting more traction."
2. But how much is being translated into practice?
Catarina de Albuquerque, former U.N. special rapporteur on the right to safe water and sanitation and now executive director of Sanitation and Water for All, spoke of a disconnect between the shared vision of the SDGs and their actual implementation.
"We have made progress in terms of agreeing what is needed," she said. "But when the rubber hits the road and we come to do the actual work, we can have difficulties." She added, "Everyone agrees that inequality is a big issue ... but are the governments truly making an effort in empowering those who are normally stigmatized or left behind?"
Similarly, other attendees said that while there is a lot of talk about new partnerships and joined-up work both within the WASH sector and extending beyond, they were doubtful about whether this would play out in practice. Lesley Pories from the water NGO Water.org said that despite a lot of rhetoric around increased cooperation and innovation, the sector remains "fragmented" and "siloed."
"We are paying a lot of lip service to things like blended finance and building new partnerships but there's a residual reluctance," she said. "People want to do it, but they are scared."
John Sauer, senior technical advisor for WASH at Population Services International, which works to create markets for low-cost toilets in developing countries, agreed. "Despite lots of talk and good intentions to collaborate, the sanitation sector — with a few possible exceptions — is still figuring out how to make collaboration translate into results."
3. Unlocking new financial flows for WASH
Participants in Sweden repeatedly heard that achieving the SDGs will require new and creative forms of finance. World Bank Senior Economist Sophie Trémolet wrote in a blog last week about the fact that water investment is, by its very nature, "lumpy and costly," thus requiring flexible, long-term and targeted finance from governments, as well as the private sector, especially for urban development.
Talking to Devex, the water and sanitation specialist said, "if we want citywide inclusive sanitation, we need to be more [flexible] to make sure it is adequately financed and managed," adding that the sector needs to "be more creative where we channel subsidies" to make sure they target the very poor and don't end up benefitting only the middle classes.
Albuquerque made a similar point, referring to "a risk that by bringing in commercial money and the private sector that you finance WASH for the better off, leaving the others behind."
However, she said that if it was structured correctly, then commercially backed private sector ventures could supply the middle and higher classes, which would "free up room for the public sector" to focus on the poor. This would require robust monitoring and accountability systems to be in place, she added.
During one of the sessions, Devex heard about a new water financing facility in Kenya funded by the Dutch, Swedish and U.S. governments. It is designed to provide finance to five high-performing water utilities to strengthen their work and extend it into poor communities through the domestic bond market.
Pim van der Male, a sanitation expert from the Dutch Ministry of Foreign Affairs who is brokering the facility, explained that utilities financed through the mechanism would need to ensure that 25 percent of their customers were the very poor. The first bond is due to be issued in April 2018.
4. The most promising new developments are in urban sanitation
Many innovative developments are happening in the urban sanitation sector. This was confirmed by Trémolet, who said "I've been in the sector for 20 years and … nothing is very new," but urban sanitation is "where there is innovation and new things happening."
Specifically she was referring to container-based sanitation, which is being positioned as a potential solution for crowded areas where there are no sewage systems and digging pit latrines is not an option. CBSs, such as Clean Team in Ghana, are sanitation services that capture human waste in a removable container that can then be sealed and transferred to a processing facility to be turned into fuel or fertilizer or otherwise safely disposed of. The World Bank is considering entering the space, according to Trémolet, who said they were currently performing due diligence on the model.
Moriarty from IRC said there is "exciting stuff happening around sanitation," and in particular mentioned developments in faecal sludge management, or FSM, approaches.
"Where five years ago [at Stockholm World Water Week] … all you could point to in terms of non-sewerage urban sanitation was early stage research projects, but now it's beginning to look like a menu of options," he said.
5. Waste management is an increasingly urgent problem
However, experts raised the point that FSM, and also household waste, requires much greater attention, particularly in urban areas where lack of space, terrain, higher costs and other factors make it more difficult to follow the twin pit latrine model.
In an interview with Devex, Rudd described FSM as an "integral part of the entire sanitation picture" and one that needs to be integrated into development approaches. "Some countries are doing it well but others have an appalling problem on their hands. [They] have attended to the exterior question of lots of toilets, but are not dealing with what happens with treatment," he said.
Trémolet agreed but said waste management also needed to include how to deal with trash. In Ghana, for example, officials have developed a "very good sanitation policy in which they conceive of sanitation as all streams of waste," she said, but added that the majority of countries still think of them as separate.