Milad Mohammadi, Hydraulics Engineer at Zharfab Consulting Engineers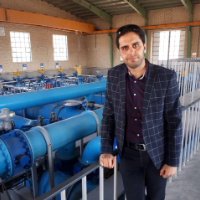 I am a hydraulics engineer with extensive experience in water consulting industry. My specific field of expertise is design and supervision of water distribution networks, transmission lines, pump stations and reservoirs. As a civil engineer with a focus on hydraulics, I am almost dominant on every aspect of first and second phase of water transmission lines and water distribution networks projects including analysis of existing water network, water hammer analysis, estimating future water demand based on population trends, determining pressure zones, developing and revising water networks models with calibration, suggesting various schemes and the most optimal one, preparing executive plans and cost estimation. Field investigations and defense presentations are also my duties.
I'm also skilled in using software packages such as WaterGEMS, HAMMER, AutoCAD, Civil3d, and Microsoft Office.