Ian Cleland, CEO - Projects Director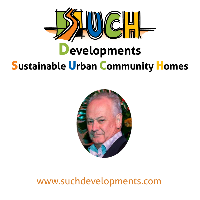 CEO and Projects Coordinator for SUCH Developments. D&C of low impact sustainable urban communities in provincial cities on the east coast of Australia.
SUCH Developments is looking for people in the sewerage and water profession. To provide consultancy services on energy integration systems that include treatment of waste and water used for energy production and biowaste for agriculture.
Last 30 years - Held varies position in design teams for documentation of projects up to $280 million, 2IC on several projects both water and sewerage and team leader on several projects.
Ian Cleland
SUCH Developments