Edward Melger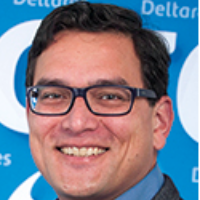 Mr. Melger has played a leading role in making Deltares expertise available to consultancy firms, governmental organizations, universities and research institutes worldwide. He strongly believes open software, open source, open data and open models are the future. As the Product Manager of the modelling software Delft3D & SOBEK, Mr. Melger has built up extensive experience with water related problems in 140+ countries worldwide. His area of expertise includes hydrology, hydrodynamics, morphology, and water quality & ecology, for river, estuarine, coastal and urban environments.

As the Deltares Academy Programme Manager, he is responsible for Deltares´ educational facility in the field of water, subsurface and infrastructure by means of international courses, on-the-job training, and webinars.

Mr. Melger was the Principal Organiser of the First International Delft Software Days (DSD-INT), held in Delft in 2011, in close collaboration with the Delft University of Technology and UNESCO-IHE. He is the DSD-INT Programme Manager, since then. This annual event provides a venue for both users and developers of software products, tools and data management systems, such as Delft3D, Delft-FEWS, D-Geo Stability, D-Sheet Piling, HABITAT, iMOD, OpenDA, OpenEarth, OpenMI, SOBEK, SWAN, XBeach and serious games. The community using the Delft open source software is currently 15,000+ members worldwide. The DSD-INT is held in support of the open source community and is important in fostering relationships with universities, research institutes, governmental organizations and consultancy firms.

He is also playing a key role in the improvement of the hydro software, which includes Delft3D Flexible Mesh, 3D glasses, interactive modelling, touch tables, and serious games.