Vision & Mission Of WTMD-CSIR, NEERI, Nagpur India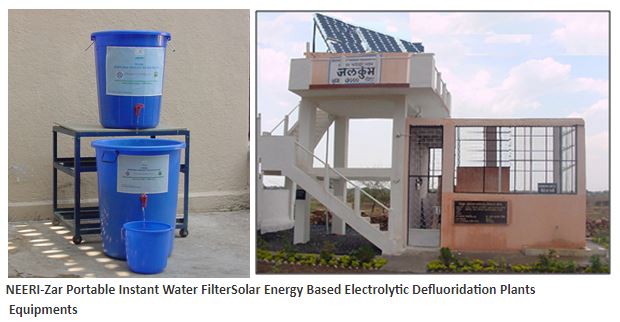 WTMD, National Environmental Engineering Research Institute, Nagpur, India
Introduction (Vision & Mission)
Providing drinking water has become one of the major challenges in the world today with the ever-increasing population and limited freshwater resources. India is faced with multifaceted issues related to accessing drinking water and assuring the safety of drinking water. Several states in India face acute problems of safe water supply to its citizens. About 54% of India faces high to extremely high water stress. The available surface water bodies such as lakes/ponds/rivers are also contaminated and bacteriologically unsafe for consumption. The groundwater at places is contaminated with geogenic pollutants such as fluoride, arsenic, iron, uranium, nitrate etc., making it unfit for drinking. Cities, with their expanding population and peripheries, generate sewage which is not wholly handled by existing infrastructure and is discharged into the water bodies. During 2015, the estimated sewage generation in the country was 61754 MLD as against the developed sewage treatment capacity of 22963 MLD (Central Pollution Control Board, 2015). All these factors make water scarce in quantity and unsafe in quality day by day and many agencies have taken up the challenge to keep it as pristine as possible. Notwithstanding an increase in demand for more and safe water, prudent efforts are being made to make this precious resource accessible to the common man by many of us. Gradual decline in per capita water availability in India mainly due to increase in population and boisterous exploitation have made us learn and adopt judicious practices to save water; advent of several classical and emerging chemical contaminants and plethora of pathogenic microorganisms have led to invention and treatment to make water potable in order to protect the health of consumers.
Water Technology & Management Division (WTMD) was established with an aim and focus of addressing the issues related to water and carry out research and development activities pertaining to water quality monitoring and surveillance, water treatment, water safety plan, water security plan, contaminant transport studies, hydrogeological investigations, and water audits. WTMD has a history of various technology/processes development in the field of surface and groundwater treatment for providing potable drinking water to large and small communities with constant efficiency and at an affordable price. One of the significant contributions was that of the development of Nalgonda Technique of defluoridation in the '60s and '70s. It was identified as one of the efficient and cost-effective techniques that are still in practice in countries like Kenya, Ethiopia, and Tanzania. The work being carried out at WTMD is closely aligned with major missions of Government of India including Swastha Bharat, Swachh Bharat, Make in India, Innovate in India and Namami Ganga.WTMD has 11 scientific/technical and about 20 researchers/project staff and now has about 20 major projects with a total contract value of Indian Rupee 125 million.
WTMD is the only one collaborating with the Centre for Water and Sanitation in India.
Major research areas
Water Quality Monitoring and Surveillance
Water Treatment
Groundwater Quality Assessment and Management
Hydrogeological and Geophysical studies
Development of onsite water quality monitoring kits
Quantitative Chemical Risk Assessment(QCRA)
Quantitative Microbiological Risk Assessment(QMRA)
Development of localized water treatment technologies for potable water supply
Water safety and security plans
Sanitation safety plan
Technology Development and Implementation
WTMD has historically developed several technologies such as Nalgonda Technique for defluoridation, pot chlorinator etc. Following technologies are still in vogue:
Instant Portable Water Filter: NEERI-ZAR
Electrolytic Defluoridation
Iron Removal
Arsenic Field Test Kit
Water Quality Test Kit
Chemo defluoridation
Chemo-dearsenification
NEERI-Zar Portable Instant Water Filter Solar Energy Based Electrolytic Defluoridation Plants
Equipment:
GPS (Garmin)
Super Sting Multi-Electrode Resistivity Meter
Resistivity Meter (SSR-MPL)
Geophysical Survey Instrument (GPR) –SIR-3000
GPR Antenna (40 MHz, 200 MHz)
TerraTEM
Projects (Multilateral and bilateral collaborative project)
Natural Water Systems and Treatment Technologies (NaWaTech) to cope with Water Shortages in Urbanised Areas in India
Local Treatment of Urban Sewage Streams for Healthy Reuse (LOTUS)-Department of Biotechnology
Geophysical Methods to Monitoring Soil Bioremediation-Department of science and Technology (Indo-Italian)
Projects (supported by Ministry/ Departments of Government of India)
Assessment of Water Quality and Sediment Analysis to understand the Special Property of Ganga River- NMCG, MoWR, River Dev., & Ganga Rejv., New Delhi
Impact of Magic Pits on Ground Water Quality and Quantity-Ministry of Drinking Water and Sanitation(MDWS).
Hydro-geological studies for determination of seawater intrusion at NCJW mine, Amreli District, Gujarat-CSIR-Central Institute of Mining and Fuel Research (CIMFR)
Development of mixed metal (hydro) oxide material for adsorptive removal of fluoride from groundwater at circumneutral conditions-Department of science and Technology
Predictive approach for early detection of contaminant zone in intermittent and continuous water supply systems and health impacts-Department of science and Technology
Training programmes for chemists and technical staff from water testing laboratories- Ministry of Drinking Water and Sanitation(MDWS).
Water & Air Quality Monitoring, Sampling, Analysis and Data Management: Hands-On-Training-Central Pollution Control Board (CPCB) Delhi
Certificate Course on "Environment Management, Bio-Diversity and Environmental Monitoring (Air & Water Quality)"-Tehri Hydro Development Corporation Limited (THDCIL)
Projects (supported by State Government Organisation)
Testing of Drinking Water Samples for Heavy Metals / Toxic Metals/Pesticides / Fertilizers including Training Programme on Water Quality Testing-Water Supply and Sanitation Organization(WSSO)
Treatment plant evaluation, Department of Drinking Water and Sanitation(DWSD), Government of Jharkhand
Evaluation of Three Hand Pump Attachable Fluoride Removal Pilot Plants Installed by Various Agencies for Drinking Water Supply in Odisha State-Rural Water Supply and Sanitation Department (RWS&S)
Evaluation of Arsenic Contamination in Ground Waters-Public Health Engineering Department(PHED), Chhatisgarh
Assessment of Drinking Water Quality and Delineation of Treatment Options
Impact Assessment on groundwater, surface water and soil quality in the surrounding area of ash pond on 111 hectare land (Phase-II) of the Satpura Thermal Power Station - MP Power Generating Company Ltd.
To ascertain dosing of High/Medium Basicity Poly Aluminium Chloride for Coagulation of Bisalpur Dam Raw Water at Water Treatment Plant Surajpura, Jaipur and Water Treatment Plant Kekri, Ajmer-Public Health Engineering Department (PHED) Rajasthan