Undergrad Research Finds Parental Habits Have Effects on Children's Water Use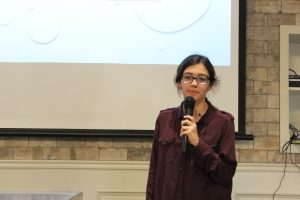 Gini Weisar, 17, second-year KAMS student, conducted a study and found parental education was a significant factor that affected water conservation values among college students.
This was an expansion of a water conservation survey of Hays residents. Both off-campus and on-campus students were included in Weisar's study.
"Parents put their input into their students' water conservation education, such as saying, 'Why are you brushing your teeth with the water on? You always take so much water. Why are you in the shower for two hours? Why do you need to use that much water?' "
School or community education efforts were also found to be significant factors for pro-conservation values. However, parental education showed more influence than school or community education.
"A lot of students did use some things as turning off the faucet while brushing their teeth, but most students, as you can probably expect, did not want to take shorter showers," Weisar said.
Students also indicated they only washed full loads of laundry, but those who did not pay for water indicated they were less inclined to take water conservation efforts compared to off-campus students who paid their own water bills.
Democrats had higher water conservation values than Republicans.
The number of years the students had lived in Hays was also a factor that showed higher water conservation values.
"People coming into Hays might not know the water needs of Hays," Weisar said. "They might not know that we are not on the Ogallala Aquifer or that we might not have as many resources as other parts of Kansas. They also might not be as financially or emotionally invested in the city."
Weisar advocated for incentive programs that targeted landlords and encouraged parents to talk more to their children about water conservation.
By Christina Janney, Hays Post
Read the complete article in the link below.