UA Team Builds Desalination Plants for Water-Scarce Navajo Reservation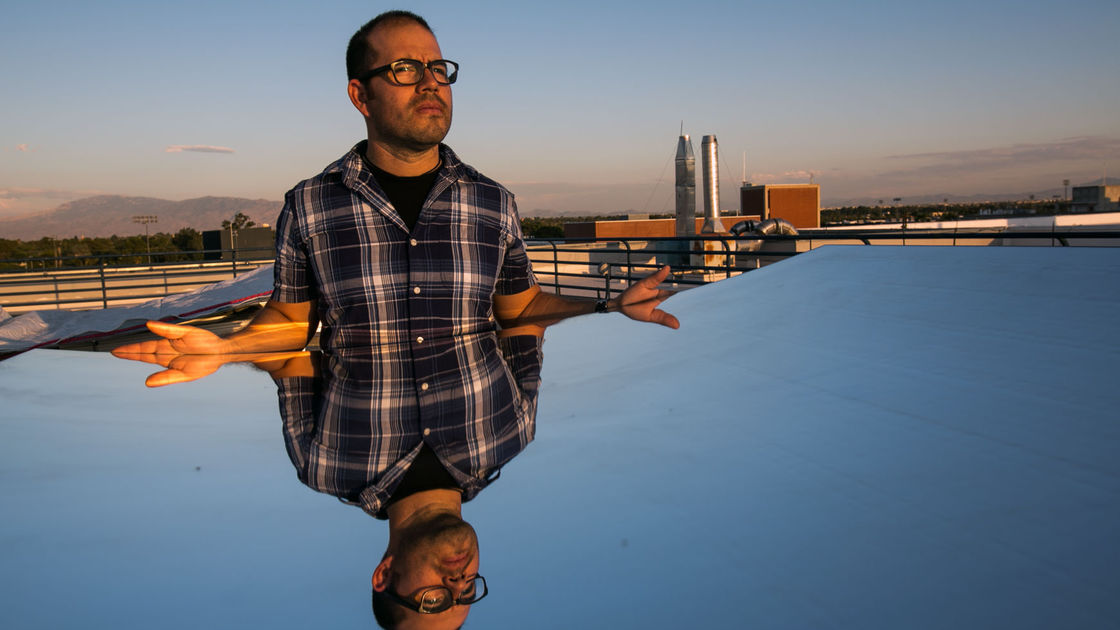 UA team builds desalination plants for water-scarce Navajo Reservation
By Mikayla Mace Arizona Daily Star
When Rodolfo Peon's mother found him climbing on his neighbor's roof when he was a 9-year-old boy living in Hermosillo, Sonora, he remembered her frustration.
"I'm going to sign you up for Boy Scouts!" she yelled up at him.
When his Scout troop went camping, Peon was required to pack water and salt and learned to live off the desert around Hermosillo. He quickly learned the value of easy access to food and water.
For another troop gathering, Peon spent a weekend collecting food and clothes for those who had none. He learned that he enjoyed the satisfaction of being part of the solution to a problem.
"I was also away from my mom every weekend," to her relief, he said, laughing.
Peon is now in the last year of his Ph.D. studies in the Arid Lands Resource Science Graduate Interdisciplinary Program at the University of Arizona with a minor in optical sciences.
Peon credits these childhood experiences with motivating his adult interests, and the possible topic of his dissertation, in securing resources such as water, food and energy for underserved populations.
Above: Ph.D. candidate Rodolfo Peon is reflected in the mirror of a solar collector atop the Steward Observatory at the University of Arizona. Peon uses his electrical engineering background and interest in solar power to provide technology to undeserved populations, in this case a bus that desalinates water for the Navajo Nation.
He recently volunteered to be part of a partnership between UA engineers and the consulting firm Apex Applied Technologies. The team built a desalination and water-purification system on a refurbished school bus and delivered it to the off-the-grid Star School, a charter elementary school located 25 miles east of Flagstaff near the southwest corner of the water-scarce Navajo Reservation.
Peon will speak about his desalination efforts as part of the UA Science Café series on Thursday, Oct. 12, at Borderlands Brewing Co., 119 E. Toole Ave.
CLEAN WATER IS SCARCE
On the reservation, Navajo families live on scattered plots, and many consider their land sacred. They don't want to leave the reservation and lose their traditions, Peon said.
But the region receives less than 12 inches of rain a year, so people rely on wells for water. Unfortunately, most of the groundwater on the reservation is salty and is sometimes contaminated with uranium and other toxins.
There's little infrastructure to provide clean water and energy to large swaths of the population. The solution is usually to collect what little rainwater does fall, but many people drive a truck with a 250-gallon tank 50 miles round-trip, on average, to a well that is not contaminated, but still might be salty.
"Even if they drive the 50-mile trip at least once a week, that will provide every family member with one bucket of water per day," Peon said. "So they really make miracles with the water."
And because water is so scarce, tribal members can't grow many crops and instead resort to the more accessible, but heavily processed food ever-present at gas stations and convenience stores, with deep implications on their health.
FINDING A SOLUTION
Peon believes, with Boy Scout sincerity, that scientists should serve the community.
"If you're working with renewable energy, then you really have to work on behalf of the planet," he said.
The collaborative group has already installed two stationary desalination and water-purification plants at the Star School and about 20 miles east at the North Leupp Family Farms to demonstrate water-treatment technology running entirely on solar power in the last year, Peon said. The bus is the third and last collaboration.
The purpose of the solar-powered desalination bus it twofold. It's mobile, so it can be used at many different wells. And it's meant to serve as an educational tool.
Apex will continue to spend time on the reservation training people to build, operate and maintain the technology. The idea is that the Navajo people own the technology and can continue to use, build or sell more solar-powered desalination plants.
The purification process works by piping well water into the bus water tanks. The water then passes through membranes with pores of decreasing size, filtering out impurities along the way.
"The nanofiltration helps us get at things that have more danger associated with them," said Mark Sorensen, the Star School's co-founder. "This not only filters the salts, but more dangerous chemicals like arsenic. To me, that's the best thing."
The movement of water through the membranes requires pressure, which has to be generated by some energy source. In this case, it's provided by the solar power harvested on the roof of the bus.
The desalination group is led by Bob Arnold and Vicky Karanikola, both UA professors in the Department of Chemical and Environmental Engineering.
Roger Angel, UA Regents' professor of astronomy and optical sciences, led the solar team. Peon designed the electrical system for the bus and the solar panels.
He became interested in electrical engineering as a child. His dad was also an electrical engineer.
"My dad always had stuff at home," Peon said. "He was also into radios, and friends asked him to repair (their radios)."
When he was a boy and his neighborhood transitioned from rotary phones to digital, Peon and his friends went around collecting the discarded microphones and speakers and hooked them all up to batteries.
"We threw the (phone) wires on the wires that already existed so the neighborhood kids could communicate," Peon said. "It gave us electric discharges when the weather was bad, but hey, it was free!"
Peon's self-proclaimed love of problem-solving was fostered as a Boy Scout. But his time in the Scouts de México also taught him to work hard.
Peon's work ethic is "off the scale," Arnold said. He also stressed the fact that Peon participates in this work voluntarily.
Peter Zhou, CEO and president of Apex, was impressed by how thorough Peon is in his work.
During the installation of the second plant, both Zhou and Peon were on top of the structure, hooking up wires. After Zhou finished his part of the work, he climbed down to work on other tasks.
"I'm down there and a couple hours later he finally came down," Zhou said. "Later on when I climbed up, I saw that he cut all the ties that I made and redid them. He made them really pretty, like a piece of art."
"I was pleasantly surprised," he said.
WHAT'S NEXT
Peon also simply enjoys problem-solving to better other people's situations.
"I like doing it, and it's like when you're building a puzzle," he said. "You have the pieces there and you put it together to make it work."
For his dissertation, he intends to contribute to the work done so far by the UA Desalination Group and the Steward Observatory solar lab by designing a waste-free system that will facilitate the Navajo Nation achieving energy, water and food security.
Only about 15 percent of water from the solar-powered desalination plants is drinkable. The rest is high-salinity waste. It can, however, be used for crops.
"Salty water is bad for soil, not for plants," Peon said, so he plans to work with Navajo farmers to create a hydroponics system to grow crops in greenhouses year-round.
"Very simple solutions can dramatically change their quality of life," he said.
Back at the University of Sonora, he hopes to continue working with the Navajo Nation on implementing his ideas.
Peon earned a bachelor's degree in electronics from the Hermosillo Institute of Technology and a master's degree in electrical engineering from the University of Calgary in Canada.
When Peon graduates from the UA, he will join the University of Sonora as a full-time professor and continue working with the Navajo Nation on sustainability projects.
Sorensen said he's definitely interested in working with Peon in the future because he has "the skills and the passion."
Peon also hopes to take what he's learned as a student and a volunteer to implement a new graduate program at the University of Sonora that focuses on renewable energy, science communication and scientific leadership.