This 'Genius' Architect Just Won $625,000 to Save Cities from Rising Sea Levels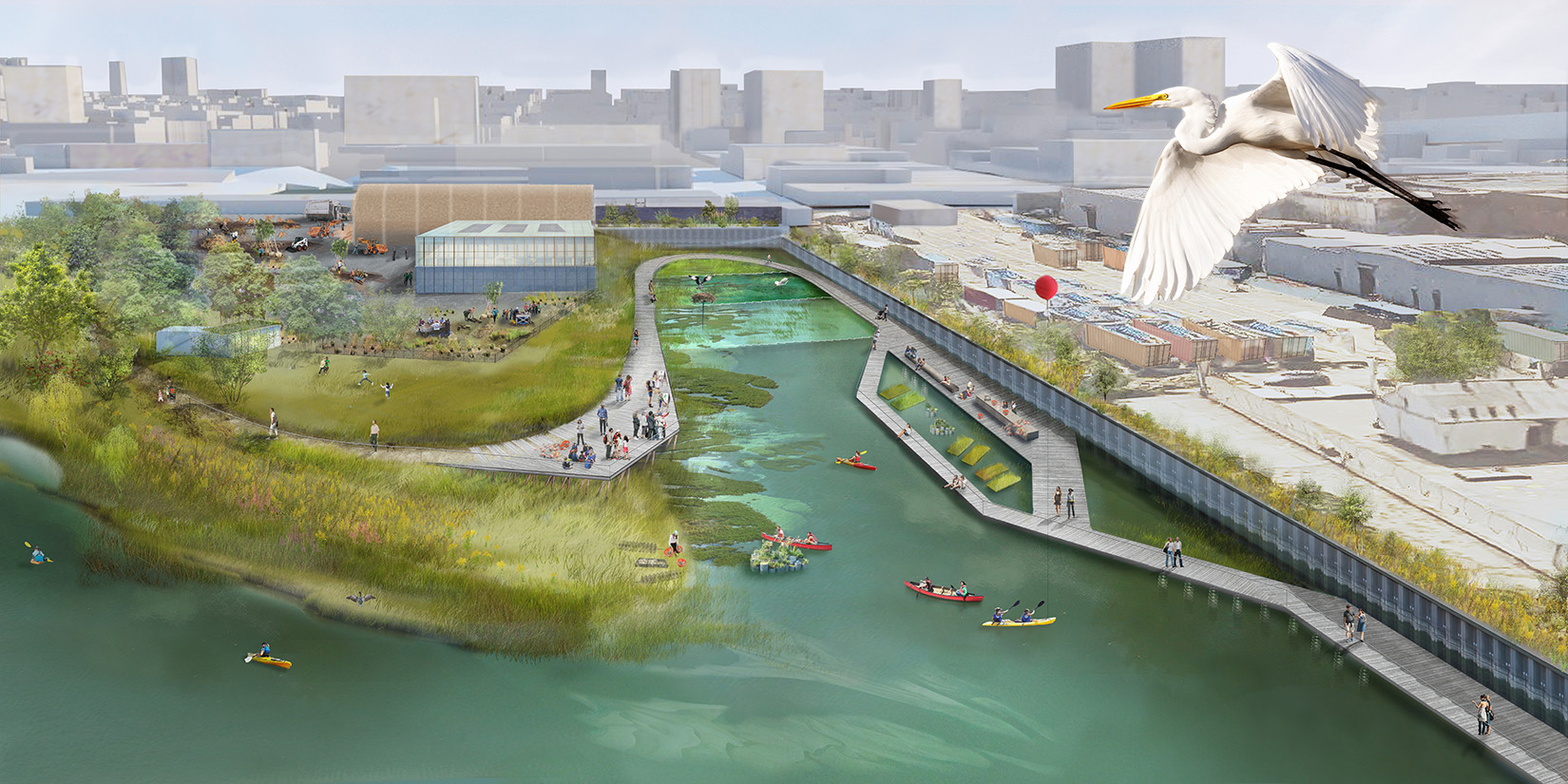 Rising sea levels, coastal flooding, and biodiversity loss are stark realities for many cities across the United States.
By 2100, there is a 90% chance that global mean sea levels will rise anywhere from eight inches to 6.6 feet, according to a recent National Oceanic and Atmospheric Administration report. As the world becomes more urbanized, cities can lose wetlands (which protect against flooding), trees (which fight CO2), and native flora and fauna.
A rendering of the Gowanus Lowlands project for New York City.SCAPE Landscape Architecture DPC
Landscape architect Kate Orff, founder of the urban design firm Scape Studio, aims to address those issues in her work. She is a 2017 recipient of the MacArthur fellowship, also known as the "genius grant," announced on October 11. Every year, the John D. & Catherine T. MacArthur Foundation awards $625,000 each, paid over five years, to people who "have shown extraordinary originality and dedication in their creative pursuits and a marked capacity for self-direction."
Orff's projects focus on finding practical solutions to ecological problems facing cities. Check out some of her most fascinating ones below.
Orff and her firm Scape Studio are known for designing green spaces for urban places. Most of their projects center in New York City, but they also work across the US and abroad.
Oyster-tecture collaborators: Bart Chezar, Hydroqual Engineering, MTWTF, New York Harbor School, NY/ NJ Baykeeper, Paul Mankiewicz, Phil SimmonsSCAPE Landscape Architecture DPC
In 2011, she gave a TED Talk about Scape's Oyster-tecture proposal, an active oyster reef that could promote biodiversity and protect low-lying areas from sea level rise in the New York Harbor. Each oyster would filter up to 50 gallons of water per day, removing nitrogen, algae, and other pollutants.
The Gowanus Lowlands project proposes transforming a Brooklyn neighborhood, known for its federal Superfund site, into a thriving park with vegetable gardens. The design was unveiled in summer 2017.
SCAPE Landscape Architecture DPC
The Blue Wall Center — completed in 2010 outside Cleveland, South Carolina — transformed a former 165-acre camp site into a visitor's center, where people can learn about the surrounding ecosystem.
Collaborators: Studio Gang Architects, Earth DesignSCAPE Landscape Architecture DPC
Orff has also worked on several projects that have educational components. Scape's De-constructed Salt Marsh proposes re-purposing a collapsed pier in Sunset Park, Brooklyn into a public learning laboratory for intertidal habitat and harbor ecology.
Collaborator: Bart ChezarSCAPE Landscape Architecture DPC
In 2016, New York City's Harlem neighborhood got a colorful Scape-designed playground, called Blake Hobbs Play-Za. It replaced a dilapidated asphalt play lot.
Collaborators: New York Restoration Project, New York City Department of Parks and Recreation, Leonard J. Strandberg and Associates, Gibney Design, Delta Fountains, Steven Dubner LandscapingSCAPE Landscape Architecture DPC & Ty Cole
The Dune Co-Habitat was designed in 2014 to protect New York City's Far Rockaway Beach from future storm surges. The 80-acre plan calls for building a neighborhood of houses on raised platforms, and planting dunes as a natural flood defense.
Collaborators: LOT-EK, Sherwood Design Engineers, James LimaSCAPE Landscape Architecture DPC
Construction on the Red Hoek Point development, which features offices, a public park, an event space, and shops, began in late 2016. Scape designed the project's green roofs (which capture and slow down water flow) as well as an esplanade that features tidal ecosystems.
Collaborators: Foster + Partners, Langan Engineering, DeSimoneSCAPE Landscape Architecture DPC
The name is a spin on Roode Hoek, the name Dutch colonists gave the area in the 1600s, according to Curbed. The project will be completed in 2019.
Planned for Staten Island, New York, the Living Breakwaters project will consist of 4,000 feet of storm surge-fighting sea walls that double as oyster reefs and fish habitat. Construction will begin in 2018, and it might be Orff's most ambitious project to date.
Collaborators: Parsons Brinckerhoff, ARCADIS, Ocean and Coastal Consultants, SeArc Ecological Marine Consulting, The New York Harbor Foundation, LOT-EK Architecture, MFS Consulting Engineers, Prudent EngineeringSCAPE Landscape Architecture DPC
Living Breakwaters received $60 million in HUD funding in 2014.