The Ivanhoe Foundation Supporting Future Global Leaders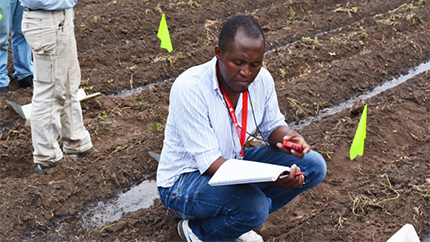 The Ivanhoe Foundation of Ojai, California, has made a generous gift to support international graduate students at the University of Nebraska who are preparing for careers in water management. The gift creates new awards for fellowships and research assistance to help students committed to improving water and food security in developing countries.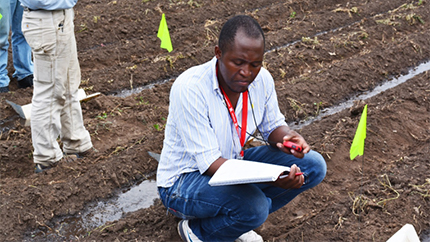 Graduate student Mavuto Banda from Malawi conducts an experiment on irrigation water flow as part of a master's level agricultural engineering course at the University of Nebraska-Lincoln.
Upon learning about the Daugherty Water for Food Global Institute at the University of Nebraska online, Cheryl Ivanhoe Townsend, Chair of the Ivanhoe Foundation, attended DWFI's 2017 Water for Food Global Conference in Lincoln, Nebraska, to learn more about the institute's work around the world. Based on the information she gained from the conference and impressed with the global impact of DWFI, she recommended funding programs for international graduate students attending the University of Nebraska in water-focused areas of study.
This year, the Ivanhoe Foundation presented a $355,000 gift to the University of Nebraska Foundation to establish The Ivanhoe Foundation Daugherty Water for Food Global Institute Student Support Fund. The fund will provide needed financial assistance through fellowship awards and research assistance for international graduate students pursuing careers in water management, especially in less economically developed countries. The gift was matched by designated funds within the NU Foundation to create a combined permanent endowment of $710,000. This funding will strengthen and enhance DWFI's efforts to cultivate future leaders in water and food security.
"The Daugherty Water for Food Global Institute will be able to reach many more global students than they could before," Ms. Ivanhoe Townsend said. "We are excited to see the impact these students will make as they use the knowledge gained to tackle these enormous challenges that lie ahead of us. We want to be a part of DWFI's mission to ensure water and food security for our world."
About the Ivanhoe Foundation
The Ivanhoe Foundation grants Fellowships to needy and deserving students from developing countries. These students must be studying at a U.S. university for a practical Master of Science degree in engineering or science, with an emphasis on water resources.
Source: Water for Food, Daughtery Global Institute, University of Nebraska