Our Future Water Berlin Event: Early Bird Tickets on sale now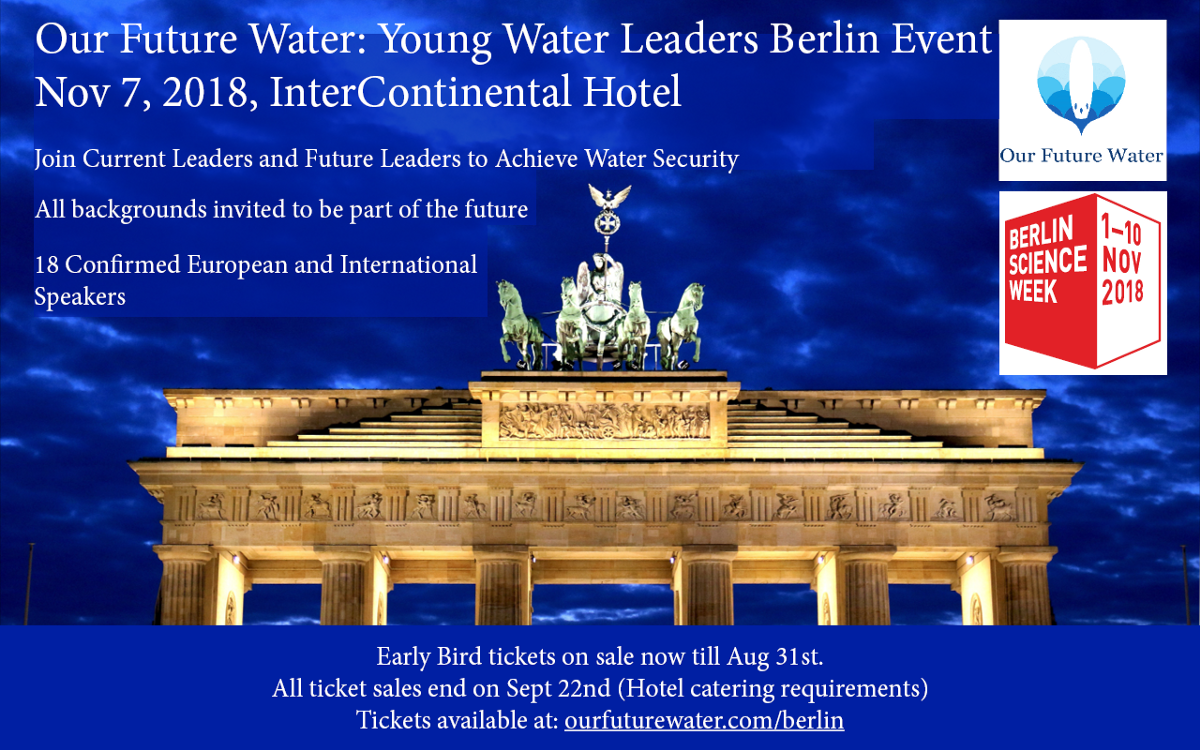 Our Future Water Berlin Event
November 7, 2018
InterContinental Hotel Berlin
Inviting all current leaders and future leaders to attend and achieve water security for today's and future generations.
Inviting everyone of all backgrounds to hear from current leaders and future leaders on how to achieve water security.
Inviting everyone to be part of the future of water management
Early Bird Tickets on sale now here until August 31st, 2018 : €350 + booking fees
Regular Tickets: Sep 1 — Sep 22, 2018: €450 + booking fees
Last Day of Ticket Sales: September 22nd, 2018 (Hotel catering requirements)
***All tickets include catered lunch by Chef's choice, networking coffee/tea breaks, and evening networking drinks***
This is Our Future Water's first global event that brings current leaders and future leaders together to build a water-secure world.
The Our Future Water Berlin Event, moderated by Karin Helmstaedt, TV host and presenter on Germany's international broadcaster Deutsche Welle, has an array of 18 confirmed interdisciplinary speakers from Europe and around the world addressing how we can achieve water security.
With extensive networking opportunities throughout the day, enhance your knowledge, make new contacts, and be part of the future of water management.
Our Future Water is a Partner Institution of the BERLIN SCIENCE WEEK. The BERLIN SCIENCE WEEK is an international gathering, bringing together people from the world's most innovative scientific institutions in Berlin. It is dedicated to the dialogue between science and society to inspire a deeper understanding of our world. The Berlin Science Week fosters interdisciplinary exchange and encourages fellow participants to connect and learn from each other.
In 2017, the BERLIN SCIENCE WEEK hosted 57 events, organised by renowned national and international institutions, such as Humboldt-Universität zu Berlin, ETH Zurich, Austrian Institute of Technology, Freie Universität Berlin, IASS Potsdam, Robert Bosch Stiftung, Springer Nature or the University of Waterloo. More than 15 000 people attended lectures, festivals, conferences, panel discussions or workshops.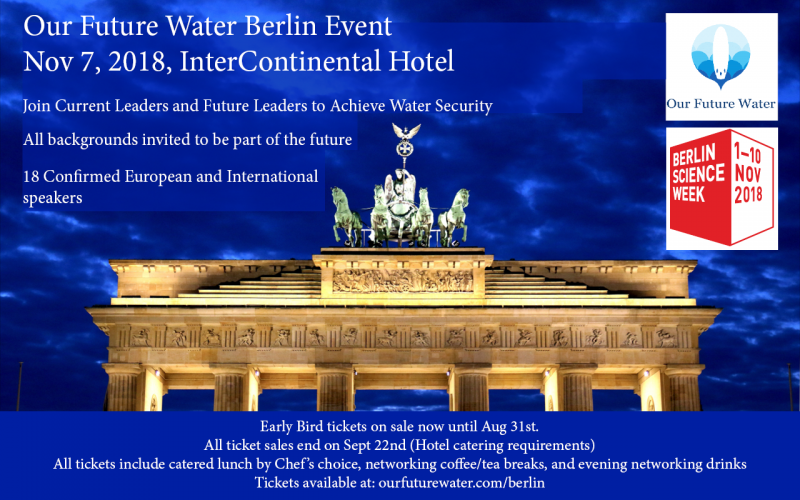 Early Bird Tickets on sale now here