Futuristic Grey+Green Infrastructure in Copenhagen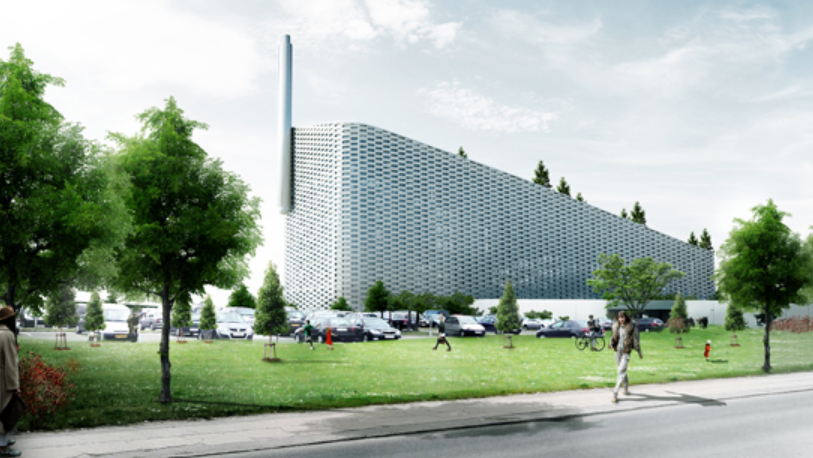 In 2018, Copenhagen's new waste-to-energy plant will not only set the bar high for environmental performance but also for architectural integration into the landscape with the plant containing a variety of green and recreational spaces.
By Robert C. Brears*
The city's waste-to-energy plant, Copenhill / Amager Bakke, is being constructed by Amager Resource Center which is owned by five Danish Municipalities. The plant, projected to open in the summer of 2018, will be equipped with two furnace lines and a joint turbine- and generator system. This replaces a 45-year-old plant that had four furnace lines. With the new furnaces, Copenhill will burn 2 x 35 tons of waste per hour. Overall, Copenhill will:
Treat around 400,000 tons of waste annually, produced by 500,000-700,000 inhabitants and at least 46,000 companies
Supply at least 50,000 households with electricity and 120,000 households with district heating
Have double the electricity efficiency of the old plant
Reduce sulfur emissions by 99.5% and NOx emissions to a tenth compared to the old plant
Recover 100 million liters of spare water through flue gas condensation
Reuse 90% of metals from waste amounting to 10,000 tons of metal a year
Reuse 100,000 tons of bottom ash as road material, saving gravel
Copenhagen's new waste-to-energy plant
Grey+Green Infrastructure
In addition to the technological achievements of the plant, Copenhill will be architecturally integrated into the surrounding landscape with the inclusion of green and community spaces. Almost 3,000m² of the roof surface will be dedicated to the green landscape with planners creating '10 places and 10 routes'. The places will contain a number of areas for visitors to look out from, take a break or work out in, while the routes will comprise a variety of walking and running routes that range from an inspirational hiking landscape to short-sprint and challenging training routes.
Hiking on top of the waste-to-energy plant
Along the perimeters of the building there will be green areas for visitors to enjoy the view of the city. An artificial ski slope covering 600m², along with a ski center providing equipment, ski passes, and clothing to the public, will provide extra recreational opportunities for the public to enjoy.
Skiing on the waste-to-energy plant
Finally, adventure-seekers will be able to climb the sides of the plant with the Danish Climbing Association involved in preparing a future climbing wall which will be one of the highest in the world at 80 meters.
The take-out
Infrastructure of the future will be a mix of grey+green enabling multiple benefits to accrue from one site.
*Robert C. Brears is the author of Urban Water Security (Wiley), The Green Economy and the Water-Energy-Food Nexus (Palgrave Macmillan), and of the forthcoming title Blue and Green Cities (Palgrave Macmillan). He is Founder of Mitidaption, which consults on climate change risks to business, governance, and society.
Facebook: YoungWaterLeaders
Twitter: YoungH20Leader