Danish Company Produces Smart Sensor Solution to Help Save Water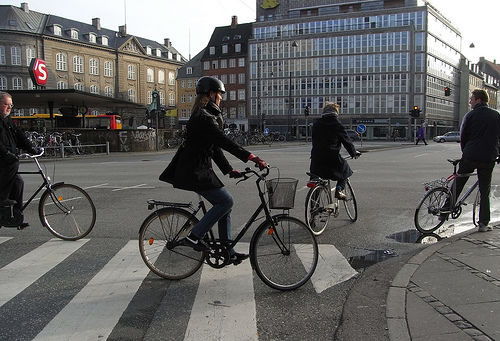 Peter Nartoft, Chief Executive Office (CEO), of Aqubig heads a company that makes a smart water sensor solution that not only can tell you when your water consumption increases or decreases but also how it compares with the consumption of others.
By Ken Hanly
Aqubig produces the smart water sensor solution for private households. There are three elements. One sensor measures the amount of water that is entering the house from the main water pipe. The second component is the "cloud" where the data is both stored and analyzed. The analyzed data can be seen on the third element which is an app for a smart phone. The app allows you to monitor your water consumption by use. You can see how much you use when washing up, showering, or any other activities. You can also compare your use with the average use of Danes. This allows you to locate areas where you could use improvement.
Aqubig has joined a project with the Technical University of Denmark (DTU) designed to promote small business development. The company collaborates with researchers at the university to help fine-tune new products or technologies in the field of water management. The project is financed by the EU and regional development funds.
Researchers at the DTU have data providing an overview of how the average Dane uses the approximately 110 liters of water each uses over 24 hours. They have also tested Aqubig's equipment over a month in one of the university buildings. They have checked whether the sensor and algorithms give a fair and accurate picture of water consumption by dishwashers, showers, and so forth.
Peter Nørtoft the Aqubig CEO said: "Martin Rygaard from DTU Environment also made us aware that the consumption of water should not be seen in isolation. From an environmental perspective, it is, for example, also a question of whether it is heated or cold water. We actually had not taken this into account. But it's important for the individual consumer to be able to assess whether it is more profitable to buy a new washing machine which both uses less electricity and water than, for example, trying to save a few litres of cold water when brushing their teeth."
Nørtoft said that after installing Aqubig's water sensor solution, consumers should be able to cut their water consumption by about 15 percent. Denmark combines good access to water with policies that produce the least water waste both in extracting water, distributing it, and consuming it according to Rygaard.
Rygaard said: "It is a different situation in other places around the world. In connection with the project, we have gathered data for Aqubiq not only from Denmark, but also from Singapore, Australia, and the USA, where water scarcity is much more pronounced and the area is thus subject to rules and regulations, for example a ban on irrigation etc. At the same time, there are places in the world which are at the same level or even ahead of us technologically and therefore in a position to benefit from using the smart solution with installation of the water sensors developed by Aqubiq. The University has long wanted to gather these data systematically."
Rygaard said that it was exciting and motivating to work with a small company such as Aqubig. He thinks that although others are trying to develop similar solutions Aqubig had a special take on the situation with its high-tech approach.
Later this fall Aqubig is initiating a pilot project with ten households to test the new technology. It already carried out a water-saving project at the huge Roskilde Festival. Representatives also traveled to Singapore to demonstrate their sensors and potential applications. Nartoft credits the DTU with making the trip to Singapore possible.
Aqubig will donate 15 percent of any profits to charity organizations working to create sustainable water programs. In this way, the company claims, those saving water in their homes will contribute also to ensuring water for people around the globe in critical need of water. The appended video shows some simple ways to save water without having to employ advanced technology.