Building a Climate Resilient, Blue-Green Oslo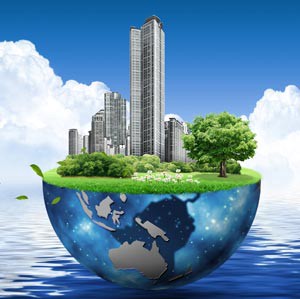 The City of Oslo is implementing a range of Blue-Green Infrastructure measures that will create a more resilient, greener city.
By Robert C. Brears*
Oslo's high population growth and rapid urban development means climate resilience is becoming increasingly important. By 2030, it is projected that the population of Oslo will be around 30% higher than today, making it the fastest-growing major city in all of Europe.
The combination of urbanization impacts from a rising population and more extreme precipitation events from climate change will reduce natural drainage and make the population more vulnerable. In response, the city is implementing a range of Blue-Green Infrastructure (BGI) strategies to enhance the city's resilience to climate change-related extreme weather events while restoring nature.
Reopening waterways
Oslo has 10 main waterways that run through its urban areas. Up until recently, the city's waterways were considered problematic for sewage and an obstacle to the development of land. As such, large sections of waterways flow through pipes and culverts. However, these have predefined capacities and with more frequent and heavier rainfall from climate change, urban flooding will become an increasing challenge. Oslo has decided to restore these waterways by reopening closed rivers and streams where possible to handle stormwater more efficiently, as well as create recreational spaces for people and facilitate increased habitat for biodiversity.
Over the past decade, a total of 2,810 meters of waterways have been reopened. The reopened parts have rapids, deep pools, and recreational areas as well as a purification system to manage runoff from roads. One example is the Teglverksdammen Project which is a reopening of around 650 meters of the stream Hovinbekke. The project has been planned and designed as a natural cleaning system with several sedimentation basins, a stream with water rapids, a small lake, and shallow waters with dense vegetation. Stormwater from a nearby school is also safely led into the newly reopened stream.
The Teglverksdammen Project in Oslo (City of Oslo photo)
3D simulation of flooding
Oslo has created a 3D-model of the entire city that enables surface runoff simulations to be conducted to pinpoint floodways. The model provides theoretical drainage lines that have been analyzed according to slope and catchment area to give the probability for flooding and/or erosion. The model has surface runoff and inundation depths for a storm event with a 200-year return period, enabling the city to target and prioritize mitigation and better determine the retention and floodway system.
The Blue-Green Factor
Oslo will use the Blue-Green Factor (BGF) to ensure there are 'blue-green' qualities in construction and renovation projects, with the BGF tool being designed to give a higher priority to green areas and outdoor spaces in planning processes, and to ensure predictability for developers in terms of requirements for outdoor spaces in the context of water management, vegetation, and biodiversity. Specifically, the BGF scores the 'importance' of each structure based on performance criteria mainly in relation to water infiltration and storage capacity. Scores are given for different kinds of blue-green surfaces in relation to their hydrological regulating effect. Additional points are also given for water and vegetation features that enhance runoff control in conjunction with aesthetic qualities and biodiversity habitat (Figure 1).
Figure 1. Blue-Green Factor calculation
To make the BGF scoring more accessible to the wider public, researchers from NINA in cooperation with city officials under the OSLOpenNESS project have developed an Android application version — BGF calculator — for Smartphones. The BGF calculator utilizes both the calculator and satellite images from Google Maps to automatically calculate total property BGF.
The take-out
Blue-Green Infrastructure can manage localized flooding while restoring natural habitats and protecting infrastructure from climatic extremes.
*Robert C. Brears is the author of Urban Water Security (Wiley), The Green Economy and the Water-Energy-Food Nexus (Palgrave Macmillan), Natural Resource Management and the Circular Economy (Palgrave Macmillan), and Blue and Green Cities (Palgrave Macmillan). He is Founder of Our Future Water, Mitidaption, and Mark and Focus.
LinkedIn Groups: Our Future Water / Urban Water Security