Berlin's Climate Neutral Action Plan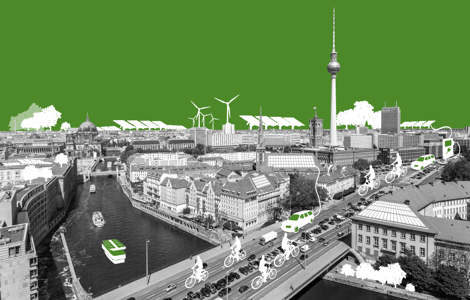 Berlin is serious about climate protection with the Berlin Energy Turnaround Act committing the city to achieving climate neutrality by 2050.
With the Berlin Energy Turnaround Act in place, Berlin aims to reduce its urban carbon emissions by 4.4 million tons by 2050; by at least 85% compared with the 1990 base year. On the way towards 2050, the city will reduce its carbon emissions by at least 40% by 2020 and another 60% by 2030.
To achieve these targets, all relevant areas of the city will be involved in reducing emissions including the energy sector, buildings, and urban development, private households and consumers as well as mobility and businesses.
Berlin's climate-neutral future
In support of the Berlin Energy Turnaround Act, Berlin's Senate has adopted the draft for a Berlin Energy and Climate Protection Program 2030 (BEK 2030) which provides concrete strategies for the path to climate neutrality. BEK 2030 follows an integrated approach and contains around 100 measures in the areas of climate protection and adaptation to the effects of climate change. The measures are in the fields of energy, transport, buildings, and urban development.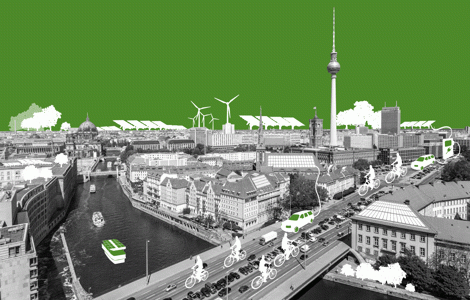 The development of the measures is guided by four basic principles:
Target 'low-hanging fruits' : Measures should be developed that provide payoffs today
Support positive trends and existing approaches: Measures can facilitate the mainstreaming of niche climate-neutral technologies and practices​
​​​​​​ Promote innovative carbon-neutral technologies, services, and business models : Not only will this facilitate a reduction in emissions but also provide economic growth opportunities for Berlin​
​​​​​​ Seek holistic, sustainable solutions : To ensure the transition to the carbon-neutral economy benefits all sectors of society
Guided by these principles, BEK 2030's measures will specifically focus on:
· Raising awareness of the public on how to be carbon-neutral through targeted information, communication and education
· Encouraging citizen participation and networking and cooperation
· Developing pilot and demonstration projects to support innovation
· Supporting current programs and incentives for technologies, services, and infrastructure
· Supporting programs and instruments that enhance social sustainability
· Improving planning instruments and regulations and removing barriers
· Supporting public sector initiatives
· Making recommendations for the federal government
Climate protection in the water sector
With water supply and sanitation being one of the largest urban electricity consumers in Berlin, BEK 2030 will implement measures that encourage the increased use of wind power and photovoltaic systems in the providing of water- and wastewater-related services. Berliner Wasserbetriebe (BWM) already poses diverse experience in the use of renewable energy for pumping water, powering sewage treatment plants and has the potential to demonstrate further renewable energy use.
In support of the city's aim of being climate neutral by 2050, BWB has committed itself to reducing its carbon emissions by 85% compared to 1990 levels by 2025. This means that by the end of 2025 the utility will have reduced its annual carbon emissions by 14,000 tons. BWB is already well on its way to achieving the goal with the Wasserwerk Tegel plant already having installed a solar power system that generates around 537 megawatts a year, which is enough energy to provide water for 26,000 people. Meanwhile, the utility's sewage treatment plant – which uses as much energy as a city with 280,000 inhabitants per year – generates around 70% of its own energy requirements.
The take-out
Climate neutral strategies don't have to reinvent the wheel, instead, they can support the mainstreaming of current practices and technologies.
*Robert C. Brears is the author of Urban Water Security (Wiley), The Green Economy and the Water-Energy-Food Nexus (Palgrave Macmillan) and of the forthcoming title Blue and Green Cities (Palgrave Macmillan). He is Founder of Mitidaption, which consults on climate change risks to business, governance, and society.
Facebook: YoungWaterLeaders
Twitter: @YoungH20Leader