A&M Professor Seeks to Help Purify Water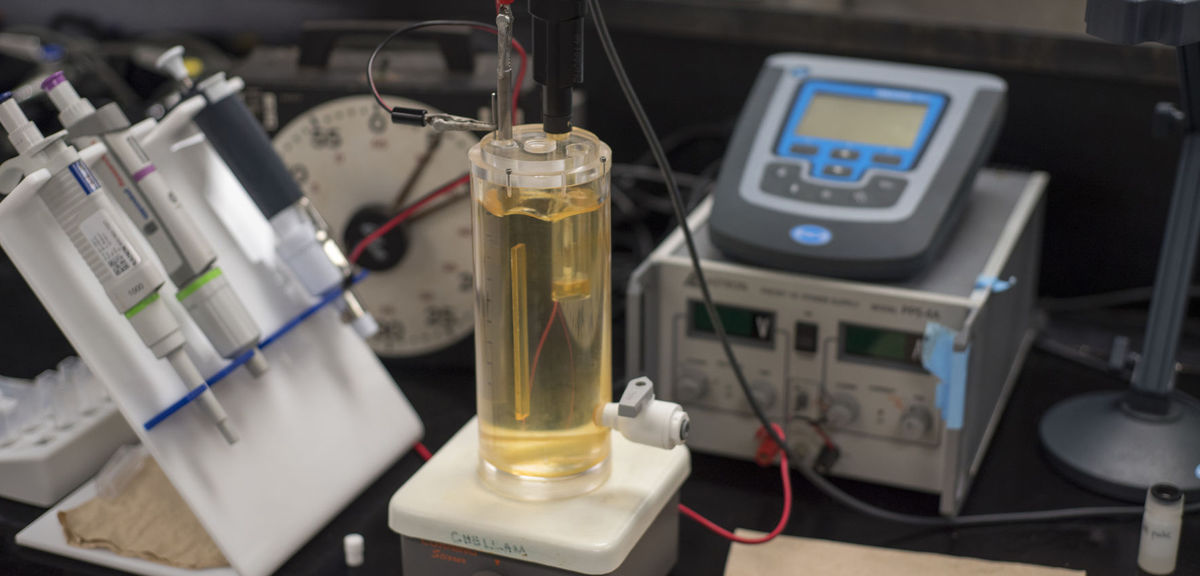 A research team aims to make water after to drink and more pure .
By Elaine Soliman @ElaineSoliman_
Purified water is not as pure as one may think, according to Shankar Chellam, civil engineering professor, who has dedicated his research to the filtering and purification of water.
Civil engineering professor Shankar Chellam and his team are working to make water purification a more thorough process.
Chellam, along with his graduate students, have fully immersed themselves on working to purify harmful bacteria, viruses and other unwanted particles that don't get filtered out of water using the typical methods, such as the manufacturing filters used by water bottle companies.
The laboratory procedure involves multiple parts and sub-projects, according to Chellam. Each student takes on an important role from researching how to undo microscopic bacterial clogs in the filter, to how to further purify the water from its initial stage.
"[The research] is ongoing, so even if we make some discoveries, there are more discoveries to be made . . . these are small stepping stones towards a full understanding of water purification," Chellam said.
Chellam's group is a small part of a larger group of researchers dedicated to studying water purification. Chellam said he became intrigued with water purification after he worked as an undergraduate mechanical engineer in an industrial setting with what was considered purified water.
"My first job out of my undergraduate degree was a maintenance and operations position in a chemical company," Chellam said. "Part of my job was to make pure water for the process. Water has to be pure. Part of my responsibility was the maintenance and operation of the water purification plant, but for an industrialized setting. This was way back in 1986 and this was my first exposure to water purification."
After working there for three years, Chellam said that he realized there is much to learn about the current state of water treatment and that he wanted to understand how to better purify water in order to make it safer to drink.
"I realized I need to learn more of what is to be done for water treatment, for wastewater treatment," Chellam said. "So I came to Rice University to earn my Ph.D. in water filtration. So, based on some personal experiences in the maintenance field, I decided to learn more about water purification."
After countless hours of research alongside Chellam, Bilal Abada, doctoral student for the civil engineering department, said the research they are doing is more than just academics to him.
"The publications from this project will reveal or reflect my identity, it is as important to me as my own son," Abada said. "It is not just about doing the research to get the credit, now it's part of curiosity. I want myself to understand things. It's part of my life, not just part of my job."
Abada said that while working with Chellam is challenging, it's also very rewarding.
"I'll say it's interesting working with Dr. Chellam because with him all your work, all your interpretations, should be perfect," Abada said. "But the only thing expected is to have the perfect answer. Not like half answer is accepted. So working with him is challenging but in a positive way because we have to produce the best possible work."
Chellam said that his research can expand to help the recovery process for Hurricane Harvey, which left many without safe drinking water and they have a separate grant specifically to study that.
"We are interested and working with a third collaborator for that from the center for disease control and prevention," Chellam said. "We are interested in metals and microorganisms. There are a few others who study various aspects of the hurricane and how it affected the infrastructure, not just water. So the bridges, the roads. But our small portion of the work is to look at the contaminants in Harvey flooding, specifically metals and microorganisms."
Chellam earned two shared grants from the National Science Foundation in order to further his research in the water purification field. Chellam said watching students under his mentorship grow into future leaders in research is his greatest accomplishment within the project.