A Brainstorming ​​event on ​​ "Water ​​and Wastewater ​​Start-ups ​​Ideas"​​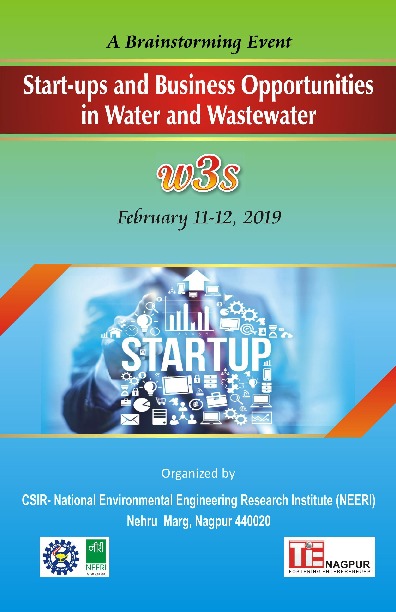 A Brainstorming ​​event on ​​ "Water ​​and Wastewater ​​Start-ups ​​Ideas"​​ ​ ​ is ​organized ​by CSIR-​National ​​Environmental ​​Engineering ​​Research ​​Institute (​​NEERI), Nagpur ​​in collaboration ​​with ​ ​ The Indus ​Entrepreneurs (​TiE) , Nagpur ​​during February ​​11-12, 2019 at ​​NEERI, Nagpur, ​​India. ​​The main aim ​​of the event is ​​to encourage ​​young ​​entrepreneurs ​​and start-ups ​​in water and ​​wastewater ​​sector.​ ​
The event ​​would encourage ​​and promote ​​exchange of ​​knowledge, ​​technologies, ​​guidelines and ​​tools for ​​implementation ​​and operation ​​for the young ​​entrepreneurs, ​​skilled service ​​providers and ​​SMEs, enabling ​​them in the ​​development of ​​systems and ​​technologies ​​for sustainable ​​water/​​wastewater ​​treatment, ​​reuse and ​​recycle.​ ​
There will be ​​dedicated ​​sessions one ​​for each of the ​​four topics i.​e.​, ​​Breaking ​​through the ​​business model ​​of rural ​​water ​​supply system,​​ ​Business ​​opportunities ​​in reclaiming ​​used water, ​​Innovation in ​​water treatment/​​Management ​​Technologies ​​and Use ​​of information ​​technology or ​​Internet of ​​things for ​​optimizing ​​water usage. No ​​registration ​​fee is being ​​asked for, ​​kindly ​​communicate ​​regarding your ​​participation ​​within February ​​5th, 2019.​ ​
Interested ​can ​contact, ​Dr ​Pranav ​​Nagarnaik (​​779889056), Dr ​​Atul maldhure (​​9883043031) or ​​Dr Lakhsmikanthan ​​(9036406364) ​​for further ​​details. ​ ​
email id-​ wtmd.​neeri@gmail.com ​
Best Regards
Sameer Mishra
Research Associate